Are you ready to start saying yes to life? To embrace new outdoor experiences? Meet new people? Explore new adventures? Yes? Then welcome to Outwood Social!
We are a community for anyone with a love of the outdoors and a want for adventure. With the added bonus of sharing it all with amazing connections along the way.
Created to be 'The place where all paths meet', we bring together the outdoors, independent businesses and you. We work in partnership with a wide range of independent businesses, activity instructors and experts, to craft a calendar of outdoor events for you, every week.
Our aim is to bring us all back together after a year of being apart. We are here to help you say yes to new experiences and adventures without the hassle of organising them or the fear of doing it alone.
From hiking to wild swimming, paddle boarding, wine tasting, yoga and more, all experiences are tried, tested and organised by our Outwood Social team. All you need to do is say yes and we'll take care of the rest!
Discover new adventures in a supportive and inclusive environment. Push your boundaries without feeling intimidated and improve your self-confidence and wellbeing. Here's to new adventures! Here's to saying YES! Here's to you!
Are you ready for adventure?
Be the first to know about our events and guarantee yourself a place by signing up to our newsletter!
Hey! I'm Leanne and I'm the founder of Outwood Social.
Outwood Social came to me because quite honestly, I needed it. Anything to do with outdoor adventure, I'm all for but trying to find and organise new experiences whilst juggling life, is exhausting!
I have always been passionate about making the outdoors part of my day to day life but I realised how difficult that is to do. Most experiences were for group bookings or were too difficult to organise for one.
Trying new activities often meant a pricey tie-in with minimum contracts and multiple direct debits. I wanted to be able to experience a variety of outdoor hobbies and adventures but it wasn't that simple.
I remember thinking, why?! Why is this so hard and why isn't there a space that includes everything in one place? So, I made one.
We organise everything. All you need to do is pick what outdoor experience or activity you want to try and book on. Outwood Social is the outdoor community I've always wanted and I'm so excited to provide it for you.
I look forward to seeing you at our next event!
Leanne – Outwood Social Founder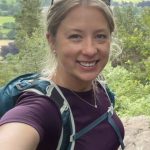 Music: www.bensound.com